Probate Accounting Workshops
Please print and bring the appropriate forms to the workshop: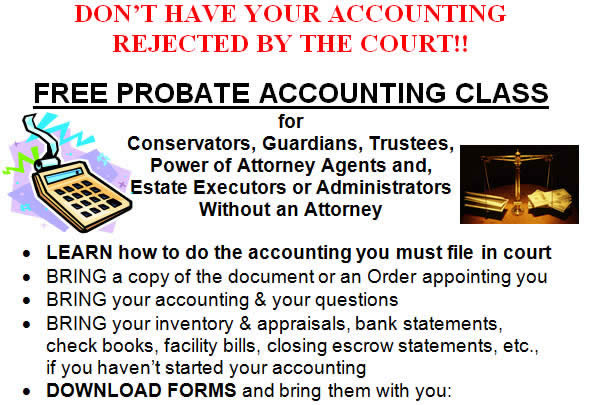 Riverside Workshop Location
Riverside Legal Aid
4129 Main Street, Suite 101
Riverside, CA 92501
Banning Workshop Location
Riverside Superior Court
311 E. Ramsey St.
Banning, CA 92220
All workshops are located in downtown Riverside unless indicated otherwise in the list below.
CHECK IN BEGINS AT 30 MINUTES BEFORE CLASS TIME
Please Arrive Early
*You can also reserve your spot by calling (951) 682-7968 or email info@riversidelegalaid.org.
*Class may be canceled or rescheduled if there is not a sufficient number of reservations 5 days before the scheduled class.
Please print and bring the appropriate forms to the workshop: