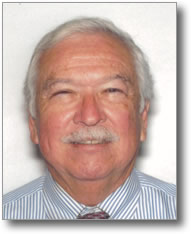 Forest E. Wright
February 3, 1944 - July, 28, 2018
Forest E. Wright, President of the Board of Directors of Riverside Legal Aid since 2001, died on Saturday, July 28, 2018. He was 74 years old and is survived by his wife, Edna, two children, Phillip and Nancy Wright, their spouses, 6 grandchildren and 2 great-grandchildren.
Forest was admitted to the California State Bar in 1979 after graduating from the UCLA School of Law. Prior to law school, he served in the U.S. Army from 1966 to 1970 as a Romanian linguist. He began his legal career as an attorney for California Indian Legal Services where he served from 1979-1985. He also served as a member of its board of directors from 1995-1998. Forest worked in the Office of the Public Defender for Riverside County from 1985 until 2001. After leaving the Office of the Public Defender, he became a principal in the law firm of Jeglin & Wright with offices in Hemet and Murrieta where he practiced criminal defense law.
Forest exhibited a lifelong commitment to the legal services community. He served as a board member of Riverside Legal Aid (a dba of the Public Service Law Corporation of the Riverside County Bar Association) from 1989 until his demise. He became its board president in 2001. In 2002 he was appointed by the RCBA to the Inland Counties Legal Services Board of Directors and served as its treasurer. Forest also served as a member of the Legal Services Trust Fund Commission of the California State Bar Association. He actively supported the Wounded Warriors Project and financed seniors on fishing trips organized by the Oceanside Senior Anglers, Southern California's largest senior angling club.
A Memorial Service will be held at the Murrieta Methodist Church on October 20, 2018 at 10:00 am. The service will be a "Celebration of Life" and will be casual; no suits or ties please. The family would like people to share funny stories and fond remembrances.
Donations in Forest Wright's honor may be made to Riverside Legal Aid, located at 4129 Main Street, Suite 101, Riverside, CA 92501, or through its website at wwww.riversidelegalaid.org.