WE ARE OPEN
Even though Riverside Legal Aid has closed its offices, clinics and workshops due to the spread of the Covid 19 virus we remain available to assist all clients in our areas of expertise through telephonic, online and other services which are not conducted in person. This includes bankruptcy and federal court matters, family law, eviction defense, conservatorships, guardianships and probate, along with consumer and other civil matters.
If you need assistance you can call our offices:
Riverside office: (951) 682-7968
Eviction Prevention & Rental Assistance Program: (951) 888-2039
Indio office: (760) 347-9456
If nobody answers then please leave a message. Your call with be returned within 2 business days.
For bankruptcy inquiries ONLY:
riversideprosebankruptcyclinic@gmail.com or at (951) 778-9878.
---
Our Mission is to provide pro bono legal services, education and counseling to qualified low-income residents of Riverside County.
Free legal services to qualified individuals in the areas of:
family law (divorce, support, custody, visitation, domestic violence restraining orders, paternity)
evictions
guardianship/conservatorship

debtor/creditor collection cases
contract disputes
bankruptcy
Federal District Court civil cases
This is made possible by the generous attorneys who volunteer their time.
---
---
DACA and Naturalization Assistance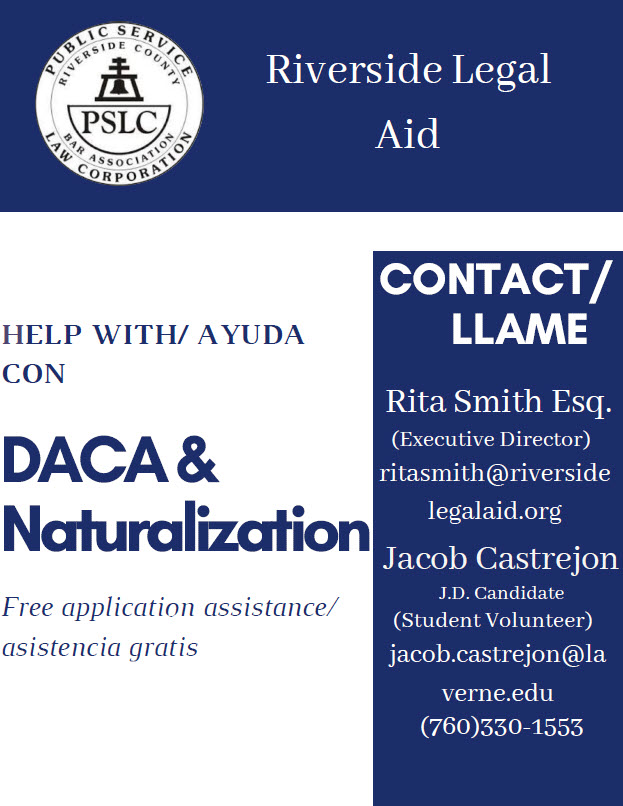 For more information about our DACA and naturalization assistance services, please contact:
Rita Smith: at ritasmith@riversidelegalaid.org
or
Jacob Castrejon at (760) 330-1553 or email: jacob.castrejon@laverne.edu
---
FREE Public Workshops
Chapter 7 Bankruptcy Workshops
NEW DATES
Click here for more information
Probate Accounting Workshop
Probate Accounting for Guardians, Conservators, Trustees, Power of Attorney Agents and Estate Administrators – Don't have your accounting rejected by the court!! Next workshop:
We typically conduct one class every month.
Click here for more information
NEW CLINIC: Small Decedents' Estates
Riverside Legal Aid offers free assistance to qualifying low-income self-represented individuals who need assistance with probate issues relating to the death of an individual:
This clinic is offered in:
Click here for more information
NEW Walk-in Family Law Clinic
A Walk-In Family Law Clinic is held at our Riverside office on the second and last Wednesday of every month, 10:00 a.m. to 2:00 p.m.
---
Bankruptcy Self-help Services in Riverside and the Coachella Valley
NEW DATES
Click here for more information.
---
Fundraiser
First Annual Virtual Wine Glass Paint Party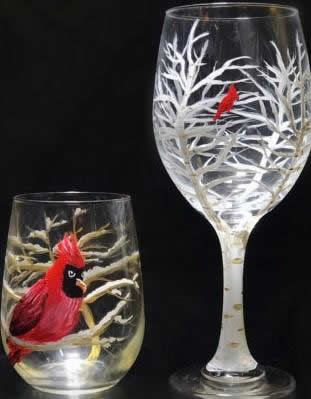 Click Here For More Information
---
Public Service Law Corporation (dba Riverside Legal Aid) is a non-profit 501c(3) corporation. Donations are welcomed. IRS Tax ID 95-3739865.